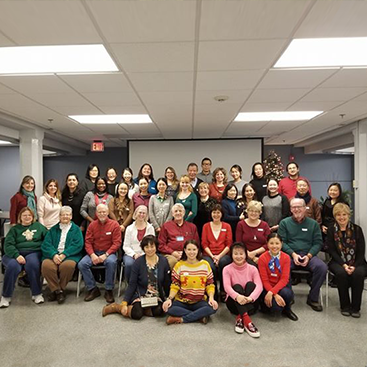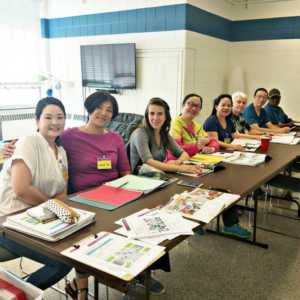 "If your gift is serving others, serve them well."
Through our ESL program we provide the opportunity to learn English. First Pres

is committed to

helping the many people who come to our community from other countries. We work with the Refugee Center to address issues of concern to the immigrant community. We welcome visitors who do not speak English and have members who are fluent in French, Spanish, Korean and Mandarin who can help make our visitors feel at home.
English
ESL Classes


Our classes focus on improving English language skills and teaching American culture. It is a safe and fun place to learn and make new friends.

Because of the coronavirus pandemic, our classes are all online through Zoom (https://zoom.us/), a videoconferencing program.



About Our Classes:
Classes can meet throughout the week for 1 to 1.5 hour classes twice a week
Students and tutors are matched together by the ESL Director based on student and tutor availability and students' proficiency level
We have 5 levels of English instruction
Classes are for adults (18 years or older) living in the Champaign-Urbana area
Our classes are free, but donation are welcome if you are able to give. The "recommended registration donation" is $20, but any amount is appreciated.
How to Join Our Classes:
Currently, our online classes are full. If you would like to be added to our waiting list, please attend one of the online ESL Information Meetings through Zoom on the following days:
Saturday, January 16th at 9am

Saturday, February 20th at 9am

Saturday, March 20th at 9am

Saturday, April 17th at 9am

Saturday, May 15th at 9am

**In order to attend the ESL Information Meeting, you will need to download Zoom and send Jeanette Pyne, the ESL Director, an email to receive the link, meeting ID, and password for the meeting. Jeanette's email is
jeanette@firstpres.church. You must email Jeanette for this information to get into the meeting.



At the meeting, you will receive more details about our program. If you wish to be added to our waiting list, you will fill out the paperwork through a link sent to you by email. Then, you will need to complete a
brief interview with Jeanette on Zoom.


Interested in Becoming a Volunteer Tutor?
We are always looking for volunteer tutors who are compassionate towards and dedicated to helping immigrants and international visitors. Previous experience in teaching ESL is not necessary. Below you will find a copy of the
volunteer tutor position description and an application. If interested in applying to be a volunteer, download the volunteer tutor application, complete it and email it to the ESL Director, Jeanette Pyne, at
jeanette@firstpres.church
.
After the ESL Director has reviewed your application, she will contact you to set up a face-to-face meeting. Bring any questions you may have about the program to the meeting. The ESL Director will tell you more about
the First Pres ESL Program and conduct a quick interview.
한국어
무료 ESL 수업
(First Presbyterian Church of Champaign)
우리 수업은 영어 실력 향상과 미국 문화를 가르치는 것에 중점을 두고 있습니다. 안전하고 재미있게 영어와 문화를 배우고 친구를 사귀어 보세요.

현재 코로나 바이러스로 인하여, 모든 수업은 화상회의 프로그램인 Zoom으로(https://zoom.us/) 진행됩니다.

온라인 수업에 관하여:
수업은 일주일에 두 번, 1시간에서 1시간 반정도 진행됩니다.
ESL코디네이터가 학생과 선생님의 가용 시간 및 학생의 영어 수준을 고려하여 반을배정해줍니다.
총 5개의 레벨이 있습니다.
본 수업은 샴페인-어바나에 거주하고 있는 성인(18세 이상) 대상입니다.
수업은 무료이나, 가능한 분은 기부해 주시면 감사하겠습니다. '권장 기부' 금액은$20이나, 액수에 관계없이 감사히 받고 있습니다.
수업 참여 방법:
현재 온라인 수업은 정원이 다 찼습니다. 대기 리스트에 이름을 올리고 싶으시면, Zoom으로 진행되는 다음 ESL 미팅 중 하나에 참석해주세요:
1 월 16 일 토요일 오전 9시

2 월 20 일 토요일 오전 9시

3 월 20 일 토요일 오전 9시

4 월 17 일 토요일 오전 9시

5 월 15 일 토요일 오전 9시

**위 ESL 미팅에 참석하시려면, Zoom 프로그램을 다운로드 후, ESL 코디네이터Jeanette Pyne (jeanette@firstpres.church)에게 이메일을
보내 Zoom링크, 미팅 ID,그리고 비밀번호를 받으세요. 미팅에 참석하기 위해서는 반드시 Jeanette에게 이메일을보내야 합니다.

수업에 관한 더 자세한 내용은 미팅에서 알 수 있습니다. 대기 리스트에 등록하기를원하시면, 우선 이메일을 통해 전달되는 링크를 통해서 간단한 설문지를 작성하게됩니다. 그 다음, Zoom을 통해서 Jeanette과 간단한 인터뷰를 진행할 것입니다.
Español
CLASES ESL GRATIS
Con la Primera Iglesia Presbiteriana de Champaign
Nuestras clases se centran en mejorar las habilidades del idioma inglés y enseñar la cultura estadounidense. Es un lugar seguro y divertido para aprender y hacer nuevos amigos.

Debido a la pandemia de coronavirus, todas nuestras clases están en línea a través de Zoom (https://zoom.us/) Un programa de video-conferencia.

Sobre nuestras clases en línea:
Las clases se pueden hacer durante la semana entre 1 y 1:1/2 hora. Mínimo dos veces a la semana.
La directora de ESL combina a los estudiantes y tutores en función de la disponibilidad de los estudiantes y los tutores y el nivel de habilidades de los estudiantes.
Tenemos 5 niveles de instrucción de inglés.
Las clases son para adultos (mayores de 18 años) que vivan en las áreas de Champaign-Urbana.
Nuestras clases son gratis, pero las donaciones son bienvenidas si tú puedes darlas. "La donacion recomendada para la inscripciónes de $20, pero cualquier cantidad es apreciada.
Como unirse a nuestras clases:
Actualmente, nuestras clases en línea están llenas. Si desea ser agregado a nuestra lista de espera, asista a una de las Reuniones de información de ESL en línea a través de Zoom en los siguientes días:
Sábado 16 de enero a las 9 a.m.

Sábado 20 de febrero a las 9 a.m.

Sábado 20 de marzo a las 9 a.m.

Sábado 17 de abril a las 9 a.m.

Sábado 15 de mayo a las 9 a.m.

** Para asistir a la reunión informativa de ESL, deberá descargar Zoom y enviar a Jeanette Pyne, la directora de ESL, un correo electrónico para recibir el enlace, la identificación de la reunión y la contraseña
de la reunión. El correo electrónico de Jeanette es jeanette@firstpres.church

Debe enviar un correo electrónico a Jeanette para obtener esta información y pueda ingresar a la reunión.
En la reunión, recibirá más detalles sobre nuestro programa. Si desea ser agregado a nuestra lista de espera, completará la documentación a través de un enlace que le enviaremos por correo electrónico. Luego, deberá
completar una breve entrevista virtual con Jeanette en Zoom.
中文
免费ESL课程
香槟第一长老会
我们的课程侧重于提高英语技能和教授美国文化。这是一个学习和结识新朋友的安全有趣的地方。
由于冠状病毒大流行,我们的课程都通过Zoom(https://zoom.us/)视频进行。
关于我们的在线课程:
满足每周两次,每次1〜1.5小时的课程
根据学生和导师的时间及学生语言能力的熟练程度来匹配
我们有5个级别的英语教学
课程适用于Champaign-Urbana地区(18岁或以上)的成年人
我们的课程是免费的,也欢迎捐赠。"推荐的注册捐赠"是20美元,但任何金额的捐赠我们都表示感谢。
如何参加我们的课程:
目前,我们的在线课程已满。如果你想加入我们的等候名单,请通过ZOOM在线参加以下任意一场ESL宣讲会:
周六,1月16日上午9点

周六,2月20日上午9点

周六,3月17日上午9点

周六,4月15日上午9点

周六,5月19日上午9点

**为了参加ESL宣讲会,您需要下载Zoom并向ESL主管Jeanette Pyne发送电子邮件,以接收会议的链接,会议ID和密码。 Jeanette的电子邮件是
jeanette@firstpres.church。您必须向Jeanette发送电子邮件以获取信息参加会议。

在会议上,您将收到有关我们课程的更多详细信息。如果您希望被添加到我们的候补名单中,您将通过电子邮件发送给您的链接填写文件。然后,您需要在Zoom上完成Jeanette对您的简短面试。
Português
AULAS GRÁTIS DE ESL
com a First Presbyterian Church de Champaign
Nossas aulas são focadas em melhorar habilidades do idioma inglês e ensinar cultura americana. É um local seguro e divertido para aprender e fazer novos amigos.

Devido à pandemia do Coronavirus, todas as nossas aulas estão sendo online através do Zoom (https://zoom.us/), um programa de vídeo conferência.

Sobre as nossas classes online:
Os encontros podem ocorrer duas vezes por semana, com duração de 1h a 1h30 por dia
Estudantes e tutores são organizados pela Coordenadora do ESL baseado na disponibilidade de ambos e no nível de proficiência do aluno
Nós temos 5 níveis de instrução em inglês
As aulas são para adultos (18 anos ou mais) que vivem na área de Champaign-Urbana
Nossas aulas são grátis, porém doações são bem vindas se possível. A "doação de matrícula recomendada" é $20, mas qualquer valor é aceitável.
Como se juntar às nossas classes:
Atualmente, nossas classes online estão cheias. Se você quiser ser adicionado à nossa lista de espera, por favor compareça a um de nossos Encontros Informativos sobre ESL online através do Zoom em um dos seguintes dias:
Sábado, 16 de janeiro às 9h
Sábado, 20 de fevereiro às 9h
Sábado, 20 de março às 9h
Sábado, 17 de abril às 9h
Sábado, 15 de maio às 9h

**Para comparecer ao Encontro Informativo sobre ESL, você precisará fazer o download do Zoom e enviar à Jeanette Pyne, Coordenadora do ESL, um email para receber o link, ID do encontro e senha para o encontro. O email de
Jeanette é jeanette@firstpres.church.

No encontro, você receberá mais detalhes sobre nosso programa. Se você deseja ser adicionado à nossa lista de espera, você deverá preencher os documentos através de um link enviado para você por email. Então, você terá que fazer
uma breve entrevista com Jeanette por Zoom.
РУССКИЙ
БЕСПЛАТНЫЕ ESL КЛАССЫ
с Первой Пресвитерианской Церковью Шампейна
Наши занятия направлены на улучшение навыков английского языка и преподавания американской культуры. Это безопасное и веселое место, чтобы учиться и заводить новых друзей.

Из-за пандемии коронавируса все наши классы доступны через Zoom (https://zoom.us/), программу для проведения видеоконференций.

О наших онлайн-классах:
Занятия могут проводиться по 1–1,5 часа занятий дважды в неделю.
Студенты и преподаватели подбираются вместе координатором ESL в зависимости от наличия студентов и преподавателей и уровня их квалификации.
У нас 5 уровней обучения английскому
Занятия для взрослых (18 лет и старше), проживающих в районе Шампейн-Урбана
Наши занятия бесплатны, но пожертвования приветствуются, если у вас есть возможность их дать. «Рекомендуемое регистрационное пожертвование» составляет 20 долларов, но любая сумма приветствуется.
Как присоединиться к нашим классам:
В настоящее время наши онлайн-занятия заполнены. Если вы хотите, чтобы вас добавили в наш лист ожидания, посетите следующие информационные встречи ESL через Zoom в следующие дни:
Суббота, 16 января в 9 утра
Суббота, 20 февраля в 9 утра
Суббота, 20 марта в 9 утра
Суббота, 17 апреля в 9 утра
Суббота, 15 мая в 9 утра


** Чтобы принять участие в информационном совещании ESL, вам необходимо загрузить Zoom и отправить Джанетт Пайн, координатору ESL, электронное письмо, чтобы получить ссылку, идентификатор совещания и пароль для совещания.
Электронная почта Жанетты jeanette@firstpres.church. Вы должны написать Джинетт эту информацию, чтобы попасть на встречу.


На встрече вы получите более подробную информацию о нашей программе. Если вы хотите, чтобы вас добавили в наш список ожидания, заполните документы по ссылке, отправленной вам по электронной почте. Затем вам нужно будет
пройти краткое интервью с Жанетт на Zoom.
Français
CLASSES ESL GRATUITES
avec la Première Église presbytérienne de Champaign
Nos cours se concentrent sur l'amélioration des compétences linguistiques en anglais et l'enseignement de la culture américaine. C'est un endroit sûr et amusant pour apprendre et se faire de nouveaux amis.
En raison de la pandémie de coronavirus, nos classes sont toutes en ligne via Zoom (https://zoom.us/), un programme de vidéoconférence.
A propos de nos cours en ligne:
Les cours peuvent se réunir tout au long de la semaine pour des cours de 1 à 1,5 heure deux fois par semaine
Les étudiants et les tuteurs sont jumelés par le coordonnateur de l'ESL en fonction de la disponibilité des étudiants et des tuteurs et du niveau de compétence des étudiants.
Nous avons 5 niveaux d'enseignement de l'anglais
Les cours sont pour les adultes (18 ans ou plus) vivant dans la région de Champaign-Urbana
Nos cours sont gratuits, mais les dons sont les bienvenus si vous êtes en mesure de donner. Le « don d'inscription recommandé » est de 20 $, mais tout montant est apprécié.
Comment rejoindre nos classes :
Actuellement, nos cours en ligne sont complets. Si vous souhaitez être ajouté à notre liste d'attente, veuillez assister à l'une des réunions d'information
en ligne
de l'ESL
par zoom les jours suivants :
Samedi 16 janvier à 9h
Samedi 20 février à 9h
Samedi 20 mars à 9h
Samedi 17 avril à 9h
Samedi 15 mai à 9h

**Afin d'assister à la réunion d'information de l'ESL, vous devrez télécharger Zoom et envoyer à Jeanette Pyne, la coordonnatrice de l'ESL, un courriel pour recevoir le lien, l'ID de réunion et le mot de passe de la
réunion. L'e-mail de Jeanette est jeanette@firstpres.church. Vous devez envoyer un courriel à Jeanette pour obtenir cette
information pour entrer dans la réunion.

Lors de la réunion, vous recevrez plus de détails sur notre programme. Si vous souhaitez être ajouté à notre liste d'attente, vous remplirez les documents par l'intermédiaire d'un lien qui vous est envoyé par courriel. Ensuite,
vous devrez compléter une brève entrevue avec Jeanette sur Zoom.
Calendar
First Pres ESL Program 2020-2021 Calendar
August
24-Monday
First Day of Fall Semester
September
7-Monday
No Class—Labor Day
28-Monday
No Class—Fall Holiday
October
12-Indigenous Peoples' Day
No Class—FPCC Holiday
22-Thursday
No Class
23-Friday
No Class
November
23-Monday through 27-Friday
No Class—Thanksgiving Break
December
17/18-Thursday/Friday
Last Day of Fall Semester
21-Monday through 4-Monday
No Class—Winter Break
January
21-Monday through 4-Monday
No Class—Winter Break
5-Tuesday
First Day of Spring Semester
18-Monday
No Class—MLK Jr. Day
February
15-Monday
No Class–President's Day
March
11-Thursday through 19-Friday
No Class—Spring Break
April
2-Friday
No Class—Spring Holiday
4-Monday
No Class—FPCC Holiday
May
20-Thursday
Last Day of Spring Semester
June
14-Monday
First Day of Summer Session
July
5-Monday
No Class—Independence Day Holiday
29/30-Thursday/Friday
Last Day of Summer Session