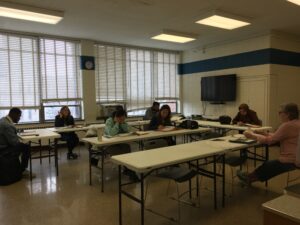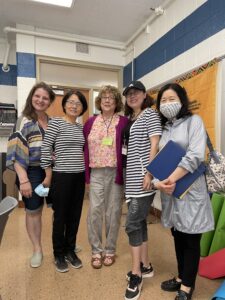 "If your gift is serving others, serve them well."
First Presbyterian Church Champaign (FPCC) is committed to helping many people who come to our community from other countries as immigrants or visitors. Our English language program for adult speakers of other languages (ESOL) provides the opportunity to increase English fluency.
We work with the Refugee Center to address issues of concern to the immigrant community. We welcome visitors who do not speak English to classes as well. We have members in our volunteer and faith community who are fluent in French, Spanish, Korean and Mandarin who can help make our visitors feel at home. Other internet options such as google translate help us communicate with speakers of all languages especially non-English speakers in the Newcomer classes.
English
FREE ESL CLASSES
Our classes focus on improving English language skills and teaching American culture. It is a safe and fun place to learn and make new friends.
We offer 'in-person' classes in the educational building two days a week at First Presbyterian Church, Champaign.(FPCC). We also have zoom classes at various times during the week.
About our classes:
Classes generally meet for 1-1.5 hours.
We have 4 levels of English instruction
Classes are for adults (18 years or older) living in the Champaign-Urbana area
Our classes are free, but donations are welcome if you are able to give. The "recommended registration donation" is $20, but any amount is appreciated.
How to Join Our Classes:
If you would like to learn more about the schedule for our classes, please email val@firstpres.church.
The director will email a registration form and provide directions to FPCC. Students will be assigned to the appropriate level of instruction during this process.
Interested in Becoming a Volunteer Tutor?
We are always looking for volunteer tutors who are compassionate towards and dedicated to helping immigrants and international visitors. Training in English language teaching strategies and opportunities to observe classes is provided. Previous experience teaching ESOL is not.required.
Tutor position descriptions and applications are available. Please email the ESL Director, Val Smith for more information at
val@firstpres.church.
(First Presbyterian Church of Champaign-FPCC)
Calendar
First Presbyterian Church Champaign ESOL Program
Revised Schedule

Starting

January, 2022

January
12/20-Monday through 1/17-Tuesday
No Class—Winter Break
18-Wednesday
First Day of M/W classes
19-Thursday
First Day of T/Th classes
February
21-Monday
No Class–President's Day
March
11-Friday through 25-Friday
No Class—Spring Break
April
15-Friday
No Class—Spring Holiday
18-Monday
No Class—FPCC Holiday
May
19-Thursday
Last Day of Spring Semester
June
13-Tues/Wed. In Person Monday-Thursday Online
First week of Summer Sessions. In Person and Zoom
July
4-Monday-Thursday
No Classes this week due to the Independence Day Holiday
28-Thursday
Last Day of Summer Session
한국어