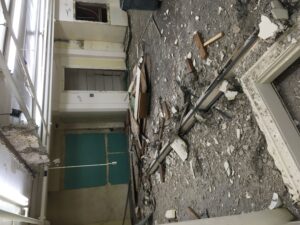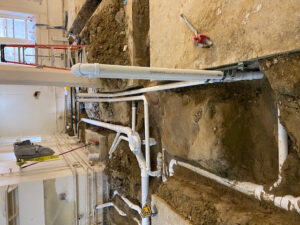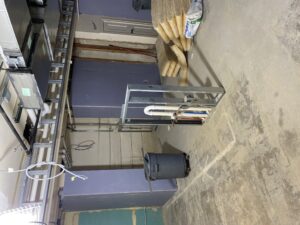 Progress on Kitchen Remodel
Progress continues on the kitchen remodel! Major work was completed in spring and early summer with plumbing, floor drains, and a much larger grease pit than before.
Construction for the wall openings to Centennial Hall for serving and dish return are nearing completion.
Considerable work on the kitchen floor has taken place throughout the remodeling, and was recently prepped and coated with a concrete primer and sealer.
The custom oven and stove hood has been installed. Major effort went into its design (and associated ductwork) by literally all of our contractors due to clearance issues with one of the main I-beam supports on the ceiling.
Two air conditioning units are being installed and the makeup air return units and compressors will be mounted outside on concrete pads.
Major ductwork on the ceiling is taking place currently for the air return units and hood. Wall and ceiling construction is also being performed as room and time permit.
These are just a sampling of the tasks that have taken place since the start of the remodeling project. Considering the current state of affairs under a pandemic, the progress that's occurred thus far has been impressive.
Please continue to pray for the safety and well-being of our contractors and facilities staff as they forge ahead to complete our kitchen remodeling project this fall.