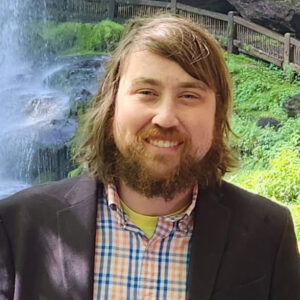 Joe Lundy
Associate Pastor for Discipleship,
I am so excited to meet you all, and I look forward to being your Associate Pastor of Discipleship! To me discipleship means all sorts of things, from how we can better serve our neighbors in our city and our world, to careful learning and studying of God's word to us here and now!I was raised in Huntsville, Alabama, and ordained at my home church First Presbyterian Church of Huntsville in 2022.
My interest in ministry was sparked after university and a brief career in computer software.
The last couple years I have been in Shreveport, both learning to be a pastor from the staff there, but also helping with their connection to the Highland neighborhood in which they reside (also leading their youth along the way).
I am looking forward to a change of scenery after spending most of my life in the Southeast: Huntsville and Auburn, AL; Atlanta, GA; Shreveport, LA; and a little further west at Austin Theological Seminary in Texas.
I move to Champaign with my cat Clem (Clementine). I enjoy disc golfing, 3D printing, playing video games and guitar.
I am looking forward to the opportunity to serve and get to know all of you here, and I thank you for all the kindness and generosity you have shown me already through this process.
Blessings,
Joe Lundy
joseph@firstpres.church
217-356-7238